About us
Established by Peter Mészáros in 1994, M-stein since then produces tools for artists. Woodcarving and lino-cut tools are the main production programme with over 500 different shapes of knives, gouges, hatchets with a range of accessories.
Carving tools are hand-forged from tooling steel and thermally processed to the hardness of 60°-61°HRC. Handels are made of hornbeam tree.
Sharp tool is a necessity for hi-quality carving. Tools we produce are already sharpened and polished, ready to use. With proper maintenance and use, our tools can serve for several generations of woodcarvers. We offer also additional accessories for carvers like wooden mallets, hatchets, packages, tools for sharpening and more useful products.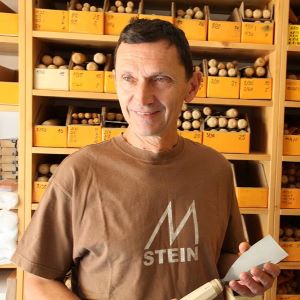 Listen to an interview with Peter and Pavol Mészáros about M-stein on Rádio Košice – https://www.radiokosice.sk/tema-10-9-rozhovor-peter-meszaros
Partners

Andrej Irša – art practitioner, sculptor, carver, publicist
www.irsa.sk, www.irsa.cz – personal website
www.rezbarstvo.sk – specialized portal
www.vercajch.eu – supplies for artists
Artpraktik – YOU-TUBE – video

Chris Vesper – manufacturer and marketer of gauges and high quality tools in Australia
www.vespertools.com.au